Federal, comprehensive and continuous quality controls require concerted procedures producing comparable results on the one hand and considering regional features on the other hand. 280 specially skilled auditors are instructed, guided and arranged by eight regional coordinators.
In order to avoid that these tasks put a strain on single companies, all members have the responsibility for one area each.
The Federal Republic of Germany is devided into the following areas:
Region 1 | Berlin, Brandenburg | FSP
Region 2 | Rheinland-Pfalz, Saarland | TÜV Pfalz Verkehrswesen
Region 3 | Baden-Württemberg | GTÜ
Region 4 | Bayern, Hessen | TÜV SÜD
Region 5 | Thüringen, Sachsen | TÜV Thüringen
Region 6 | Nordrhein-Westfalen | TÜV Rheinland
Region 7 | Niedersachsen, Bremen, Sachsen-Anhalt | TÜV NORD
Region 8 | Schleswig-Holstein, Hamburg, Meckl.-Vorpommern | DEKRA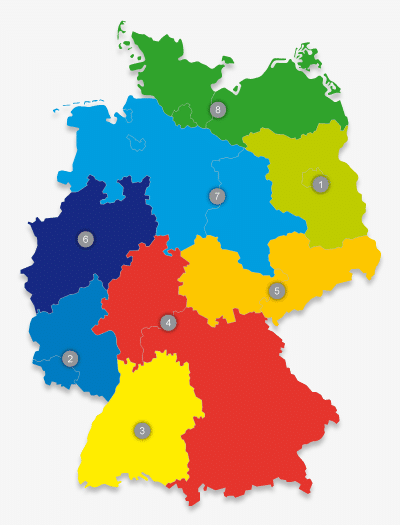 Due to the existing situation in connection with the Corona Pandemic, the members of the QM Association have expressed their support for a temporary waiver by the UN.
The new issue of the QM-Journal informs about the association´s efforts to prepare for the next years and to face new challenges. Therefore association is being in direct exchange with its members and the supervisory authorities.
The 13th general meeting in November this year stated a positive balance of the work of the association "QM-Verein".